Lime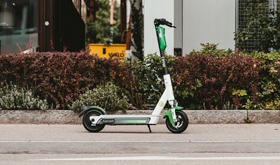 In recent years, and throughout the world, there has been a growing phenomenon in urban cities to use shared, dock-less, micro-mobility transportation vehicles such as electric scooters, electric bikes, bicycles and other devices as a way to lessen traffic congestion and provide convenient, short trip options to urban dwellers and commuters. While these electric scooters and other micro-mobility vehicles are very popular among young, urban riders, they also pose many challenges to cities and other residents due to safety and clutter. Accordingly, cities across the nation are actively changing their ordinances and licensing structures to address these mobility devices and each municipality approaches the issue differently.
Lime, like many of the other dock-less, electric scooter companies, have bold plans for expansion for their electric scooters in the Greater Phoenix Region. The firm the was retained in 2018 to provide local government relations services in Arizona during the growing concerns among cities and non-riding residents and right as Lime scooters were making their debut in the region.
Initially, the firm was tasked with assembling an outreach list of Arizona municipalities suitable for micro-mobility devices and researching each target city's respective ordinances related to such devices. The firm then assisted Lime's regional Government Relations and Operations teams to create a comprehensive outreach strategy for product launches and proactive relationship building in the various communities they planned to launch in, assembling a list of municipal officials and staff and community stakeholders to engage.
As part of Lime's initial outreach, the firm assisted Lime in several areas, including the scheduling of all outreach, facilitation of meetings, networking, and issue and agenda tracking.
While some Arizona cities have been open to micro-mobility devices from the beginning, others have either outright banned them, or are considering pilot programs to demonstrate their worthiness in their communities. In certain cities, the firm has been integral in moving city staff and elected officials from a near total or total ban on e-scooters to a pilot program that allows Lime and other competitors to demonstrate the product with the hope of program expansion.
The most recent example of this is the City of Phoenix. Initially, the City of Phoenix had ordinances in place banning electric scooters and there was little interest by the elected officials or city management team to allow them. The firm, working with Lime, set up numerous meetings with the Mayor, Council, Management and Streets Department officials to educate them about the industry and the need for shared mobility vehicles as an alternative. The firm also worked to identify and educate other community partners, like the Phoenix Community Alliance (PCA), the Downtown Phoenix Partnership (DPP), Downtown Phoenix Inc. (DPI) and other downtown neighborhood and community leaders to help push for a pilot project in Downtown Phoenix.
The City Council and city staff convened multiple stakeholders, including scooter companies, the above-mentioned community groups and numerous Downtown Phoenix leaders and residents and carefully crafted a pilot project and revised ordinances that were recently approved unanimously by the City Council. Lime was one of three companies approved to participate in the pilot project, which will commence on Monday, September 16th.