Polaris Industries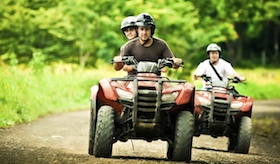 Polaris Industries is one of the largest manufacturers of off-highway vehicles. As safety features have evolved, off-highway vehicles have become heavier, exceeding the weight restrictions codified in state statute. In addition, vehicle seat configurations have changed to allow passengers to sit side-by-side (Recreational Off-Highway Vehicles), despite pre-2011 state statutes, which only recognized vehicles configured with a "straddle" seat.
As a practical matter, off-highway vehicles being produced by Polaris and other manufacturers were exceeding the statutory limitations in Arizona. While the Motor Vehicle Division was providing generous interpretations of statutes, Polaris did not want to rely on such interpretations, as changes in administration could have a significant impact on how statutes are later implemented.
Accordingly, the firm was retained to update state statutes in order to address both the weight and seat configuration issues, as a means to ensure that off-highway vehicles produced by Polaris would continue to have a market in Arizona.
Unrelated to Polaris' legislative goals, in a prior legislative session, there was contentious legislation over the establishment of an off-highway vehicle decal registration program, with the funds being dedicated to funding trail improvements. The legislation took multiple years to enact and stakeholders had significant anxiety over opening up the related statutes by Polaris, expressing concern that opponents of the decal program may use the opportunity to repeal the decal program. Recognizing the importance of managing the political anxieties of the stakeholders, the firm concentrated during the interim period on meeting with stakeholder organizations and key legislators to develop a solution that would address the concerns of all parties and the needs of Polaris. The end result was the ability of the firm to creatively draft legislation that avoided the decal program related statutes in order to minimize the political anxiety to the proposed weight and seat configuration legislation. Ultimately, all stakeholder organizations, which included state agencies, environmental organizations, conservationists and recreational off-highway enthusiasts, were either supportive or neutral on the legislation.
The stakeholder management developed during the interim period before the 2011 legislative session began was very effective in avoiding unnecessary turmoil during the session. The legislation was enacted and signed by the Governor.