Regional Visioning Exercise - Project Management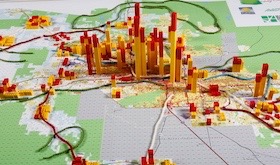 In 2007, the Urban Land Institute (ULI) retained Goodman Schwartz Public Affairs to serve as the project manager to organize and coordinate a regional visioning exercise for central Arizona. The regional visioning exercise, which became known as AZ One, a Reality Check for Central Arizona, occurred on May 16, 2008.
AZ One brought together nearly 300 diverse stakeholders to discuss regional visioning and potential future growth plans for central Arizona. Participants represented all aspects of the community from both the public and private sectors. Attendance was by invitation and there were over 1,200 nominees interested in participating.
As the event's project manager, the firm was responsible for forming strategic partnerships, engaging regional leadership and the community leaders, coordinating multiple event planning committees, developing and executing timelines and planning for tasks, program development, data collection, supporting document development, and serving as a central information center for committee members, media, volunteers, sponsors and participants.
The firm coordinated all meetings between the event steering committee and six sub-committees to ensure that communication was passed accurately and effectively not only between committees but also to media, volunteers, sponsors and participants. Many elements of the project were very time-sensitive, requiring continuous communication occurred among all involved.
The firm provided significant research and developed the supporting documents and materials for the various elements of the project. This included a robust participant guidebook containing statistics and information about the exercise, background data, and growth information such as projected residential and job growth, transportation, open space, and limitations to land use such as state land and tribal lands. An extensive training manual was developed by the firm for the facilitators and scribes present at each table, as well as developing a training program leading up to the exercise itself.
The planning exercise received high marks from the ULI leadership team and participants, alike. Following the event, the firm was responsible for publishing a summary of the exercise's results and corresponding recommendations. Ultimately, AZ One transitioned to Moving AZ One, which continued to further the regional visioning process.